The last post made me think of all the Live stuff I have amassed over the years. Just for fun, here's some pics. (These are all about 3 to 4 years old, from when I was in grade 11.)



There's the Live swivelly chair which I painted myself! (Not pictured are my Throwing Copper and Mental Jewelry-themed speakers - I painted the church on the cliff from the cover of TC and the frame from the cover of MJ on each of my speakers. Awesome!)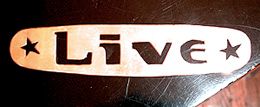 This piece of metal was eventually turned into a cuff-type bracelet, but unfortunately I gave it away before I could take a picture of it. I did make it myself, however!




My Live toque!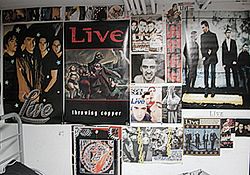 THE WALL OF LIVE (it got bigger after this picture was taken)



VINE STREET! This is in Brooklyn. I also have Vine St. sign on my wall from here in Vancouver (which is where I live now). At least it's a relatively common street name...